This post is also available in:

Français (French)

Español (Spanish)
To purchase/lease one or several aircraft, it is necessary to know above all where we are going in order to have a profitable project. Thus, we should take into account:
Our finances (check that you have the necessary budget to purchase aircraft but also to open a route, "an aircraft which doesn't fly costs a lot").

Our needs (an aircraft with a small range for short-haul flights for example).

Our strategy (low-cost, luxury, regional, medium haul, long haul, and **freigh**).
It will enable us to choose the most interesting aircraft for our airline. That's why we'll see in this section all you need to know to raise your airline to the top. A good purchase must be properly considered or it could turn into a money pit.
A tutorial is available for this article.
Purchase type
There are different types of purchase in Airlines Manager. There are new aircraft, that is to say all aircraft that just come out from the manufacturer's factory. Then there are leased aircraft that are made available by a leasing company with conditions to comply with. These aircraft only belong to you for an period agreed upon in the contract. You can change this period at any later time.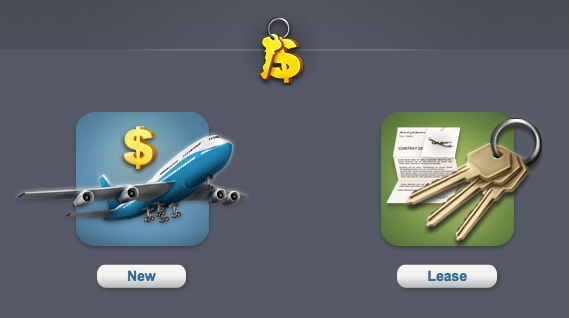 Now we'll compare the two acquisition methods with the Embraer ERJ-175.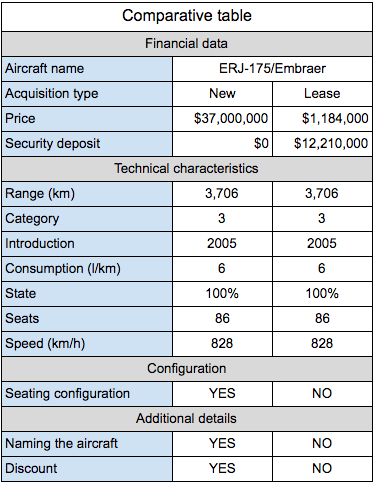 We can see that whether the aircraft is purchased new or leased, there are advantages and drawbacks. We can deduce the following characteristics:
It is expensive at purchase but it can be customized (seating configuration). In addition, when you purchase several aircraft, you can benefit from a substantial discount.
It is much less expensive than a new aircraft at purchase, but it cannot be modified (reconfigured). Besides, there are weekly payments (in our example, about $1,184,000 / week).
Aircraft types
Now that we know the different types of purchase, new or leased, it is now the aircraft type that we'll get interested in.
In Airlines Manager, there are many aircraft that have each specific characteristics. Additionally, some aircraft can be unlocked later in the game with the R&D, which further increase the number of aircraft.

For the sake of simplicity and realism, there are 4 main categories: SH, MH, LH and CG.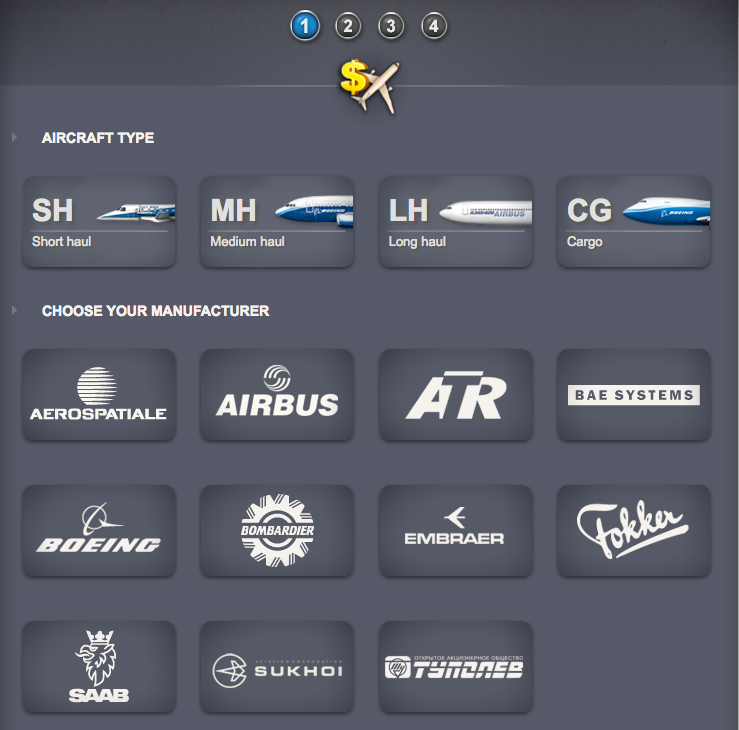 SH (Short-Haul aircraft):

They are very useful for short flights and are not expensive. They have a small range and a reduced speed but they can carry passengers to many places.

A small profit at a small cost.
MH (Medium-Haul aircraft):

Generally, they are the most used. They have a relatively high speed and enable to carry many passengers to quite distant places.

Good profits at a correct cost.
LH (Long-Haul aircraft):

all the most important wide-body aircraft are listed here and as their name suggests, they are used to carry a maximum of passengers as far as possible.

Very good profits at a very high cost.
CG (Cargo aircraft):

Delivered without seats, these aircraft cannot carry passengers and are dedicated to freight.

To be used by an airline specialized in cargo.
Manufacturers
All the most important manufacturers are represented (Airbus, Boeing, Embraer, etc.). In this section, aircraft are not sorted by type but by manufacturer.
Technical characteristics
The category ranges from 1 to 10 (for aircraft as well as routes) and is calculated from the takeoff distance. It enables us to know if the aircraft is compatible with the route.
Remember: if the route category is higher or equal to the aircraft category, they are compatible.  
Example:
| | | |
| --- | --- | --- |
| Route category | Aircraft category | Compatibility |
| 5 | 2 | COMPATIBLE |
| 3 | 6 | NOT COMPATIBLE |
| 9 | 9 | COMPATIBLE |
Year in which the aircraft is actually released to be sold/leased.
It is the limit until which an aircraft can fly and you cannot exceed it. If an aircraft has a range of 3,706 km, you cannot make it fly farther than 3,706 km.
It is what your aircraft consumes. The more it consumes, the more it is expensive.
The speed of an aircraft is one of the most important factors with the range. Depending on the speed, you can open routes with a more or less long flight length. Speed is THE parameter to take into account when your purchase an aircraft. To clearly understand the impact of speed on the flight length, look at the following table:
Aircraft type
Speed (km/h)
Route distance (km)
Flight length (h)

S-400B

467

1401

8 (=((1401/467)+

1

)*2)

ERJ-175

828

2484

8 (=((2484/828)+

1

)*2)

777-300

892

2675

8 (=((2675/892)+

1

)*2)
Flight length calculation with aircraft speed:
=((route distance/aircraft speed)+boarding duration)*2 (round trip)
As boarding takes 1 hour and as the flight is a round trip without any layover time, we have to take these conditions into account for our calculations. Therefore, we can determine the route length with an aircraft thanks to its speed and the route distance.
=((flight length/2)-1)*aircraft speed
Same calculation but in the other way around.
These calculations enables us to find the flight length or the route distance with:
– the aircraft speed
– the boarding duration which is 2 hours for a round-trip flight or 1 hour for a one-way flight.
This information is useful to know how many passengers you can carry for a one-way flight. Roughly speaking, the profitability of your aircraft depends on the number of seats.
Useful tip: the number of passengers is divided into three classes (economy class, business class, first class). As there are different possible classes, the seating configuration is also different. That's why when you want to add seats in business class, the total number of seats decrease. It decreases even faster when you add seats in first class (for which a better comfort, thus more space, is required).
For NEW aircraft, you can arrange your seats according to your strategy. For a better understanding of the seating configuration, let's see an example: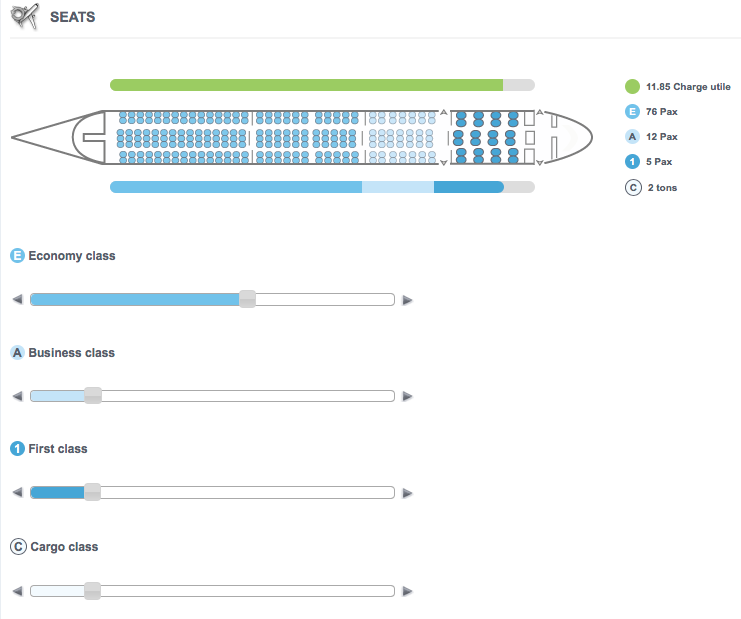 Note: we can see that in the first example, there are 86 passengers who are all in economy class. In the second example, there are 54 passengers in total for each different class. An equal seating configuration of seats for each class decreases the total number of passengers and depends on your strategy. If you manage a low-cost airline (low prices), you have to offer seats in economy class. On the contrary for a luxury airline, you have to serve the wealthiest customers in priority. Besides, check that you are not exceeding the limit of route demand as in this case you would lose money in reconfiguration.
Tip: for each route, try to make the offer meet the demand.
Tonnage

: number of tonnes of goods that can be carried by the aircraft.

Reliability (purchased aircraft only)

: this feature is currently under development. It will be available in a future version of the game.
Delivery
That's it, your choice is made, you have confirmed your delivery and you can't back out. This is the last step of an aircraft purchase/lease: the DELIVERY!
At this stage, you have two options:
Either you wait patiently for your aircraft. They will travel from the storage location to your destination hub (it can take a certain amount of time). This time can be reduced via the AM+ subscription.
Either you want to make your project profitable without waiting and in this case, you can choose to cancel the delivery time. This solution can be paid directly with AM Coins (money of the game).
That's it, your aircraft are purchased and you can schedule them by opening a route or schedule them on an already existing route.