This post is also available in:

Français (French)

Español (Spanish)
The accounting page shows the detail of the financial transactions of your airline.
The Structural Profit (SP)
Before taking a closer look at how the accounting works in Airlines Manager, you should clearly understand a major indicator of the game: the "Structural Profit".
The structural profit represents the actual profits of your airline and includes your rental fees, your loan repayments and your alliance taxes. It represents how much you can invest each day without risking to have your accounts in the red. It is also used to calculate the number of airline stars and your position in the ranking. For these two calculations, the average of structural profits over the last 7 days is used.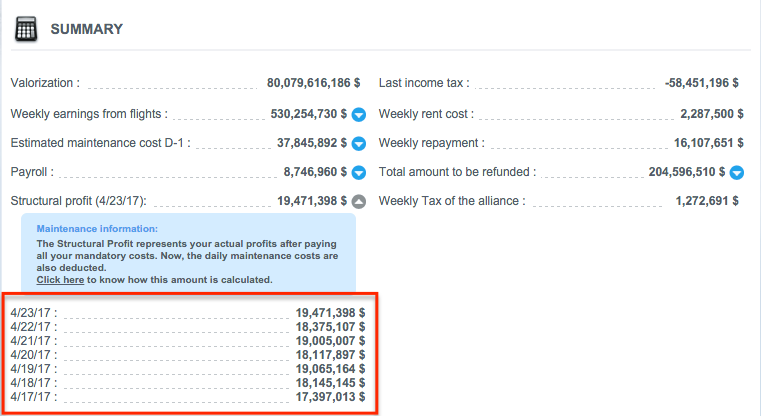 Your structural profit of the day before is calculated as follows:
Yesterday's revenues (D-1) – yesterday's payroll (D-1) – Maintenance costs (J-1) – weekly rental fees /7 – weekly loan repayments /7 – weekly alliance tax /7 – last deducted tax /7.
With concrete figures, it corresponds to:
$35,618,549 – $3,235,714 – $2,352,624 – $2,032,500 /7 –  $46,565,458 /7 – $1,291,830 /7 – $9,618,162 /7 = $21,529,075
Summary
The summary provides some very important information for a good management of your airline.
Airline value

:

value of the airline in case of a global sale of assets. In other words, it is the maximal sale value of your airline.

Weekly flights profits

: net profit of all flights, this amount does not include investments, loan repayments or rental fees.

Weekly alliance tax

: amount you have to pay your alliance every week.

Structural profit

: see explanations above.

Last deducted tax.
Weekly rental fees

: total of your rental fees for the next seven days.

Weekly repayment

: total of your repayments for the next seven days.

Total amount to repay

: total amount of the loans you are currently repaying.

Payroll

: total of salaries you paid your employees on D-1.
Account book
The account book provides the detail of each transaction made by your airline.
It is possible to view transactions sorted by day, by week or by month. A forecast history is also available.
If you want more details about your expenses and revenues, it is highly recommended to look at the account book.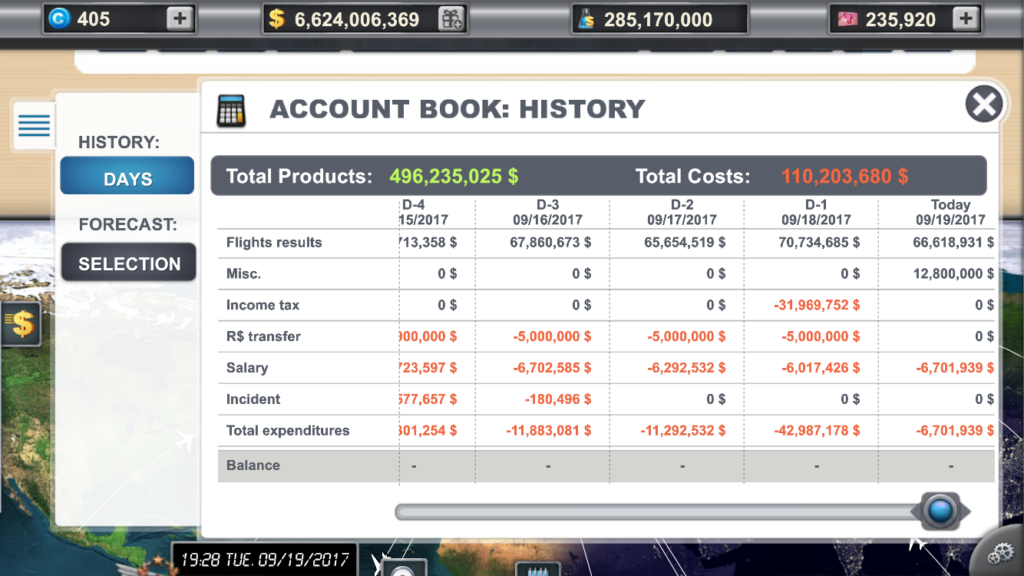 Tax details
With this feature, you can view the amount of your next tax.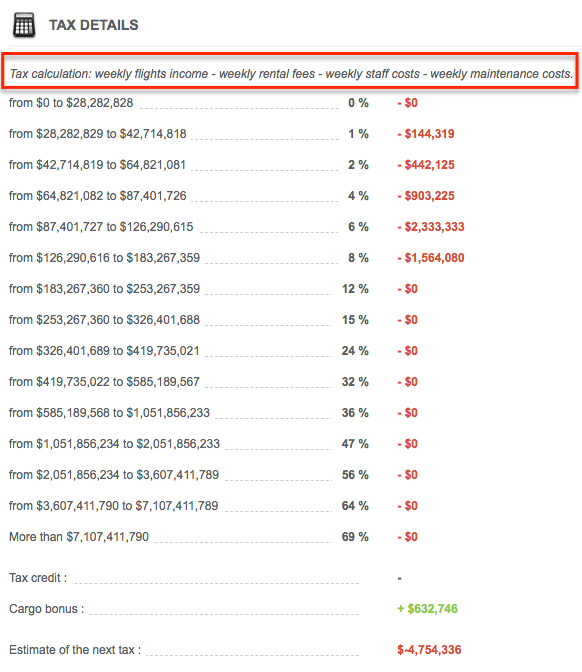 Worth knowing: 
Taxes are debited on Mondays (Professional version).
It is possible to pay tax in three installments by unlocking the research "Spread tax" in the 4th level of the General R&D.
Loan repayments and lease rental fees are debited once a week, the same day the contract was signed.
The Misc. row contains: Slot Cockpit bonuses + Gazette effects, etc.
AM+ members can download their account book.