This post is also available in:

Français (French)

Español (Spanish)
Dear CEOs, you are more and more to express your creativity through your liveries and now these efforts may be rewarded thanks to a new system: the livery market!
In this section, the most beautiful creations can be highlighted just like the game's own liveries and they can even make you earn some AM Coins under some conditions.
How to share my livery?
To share your livery on the market, follow these steps:
Create / Load your livery on Airlines Painter then tap the "Upload" button.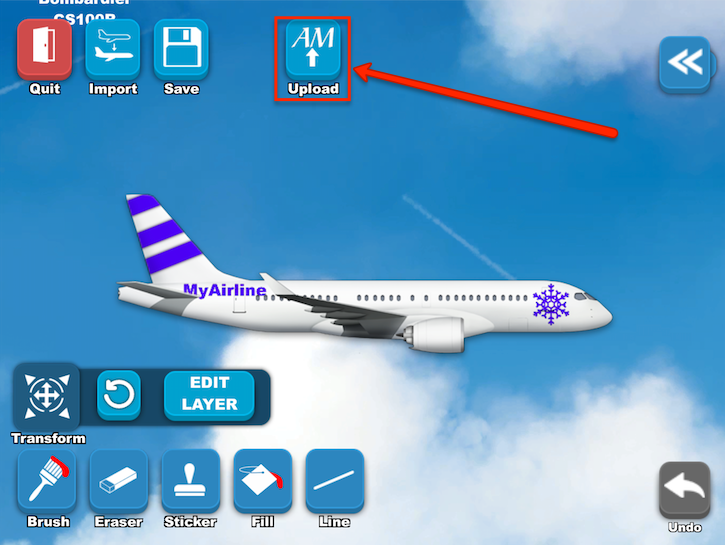 Name your livery and tap the "Upload" button.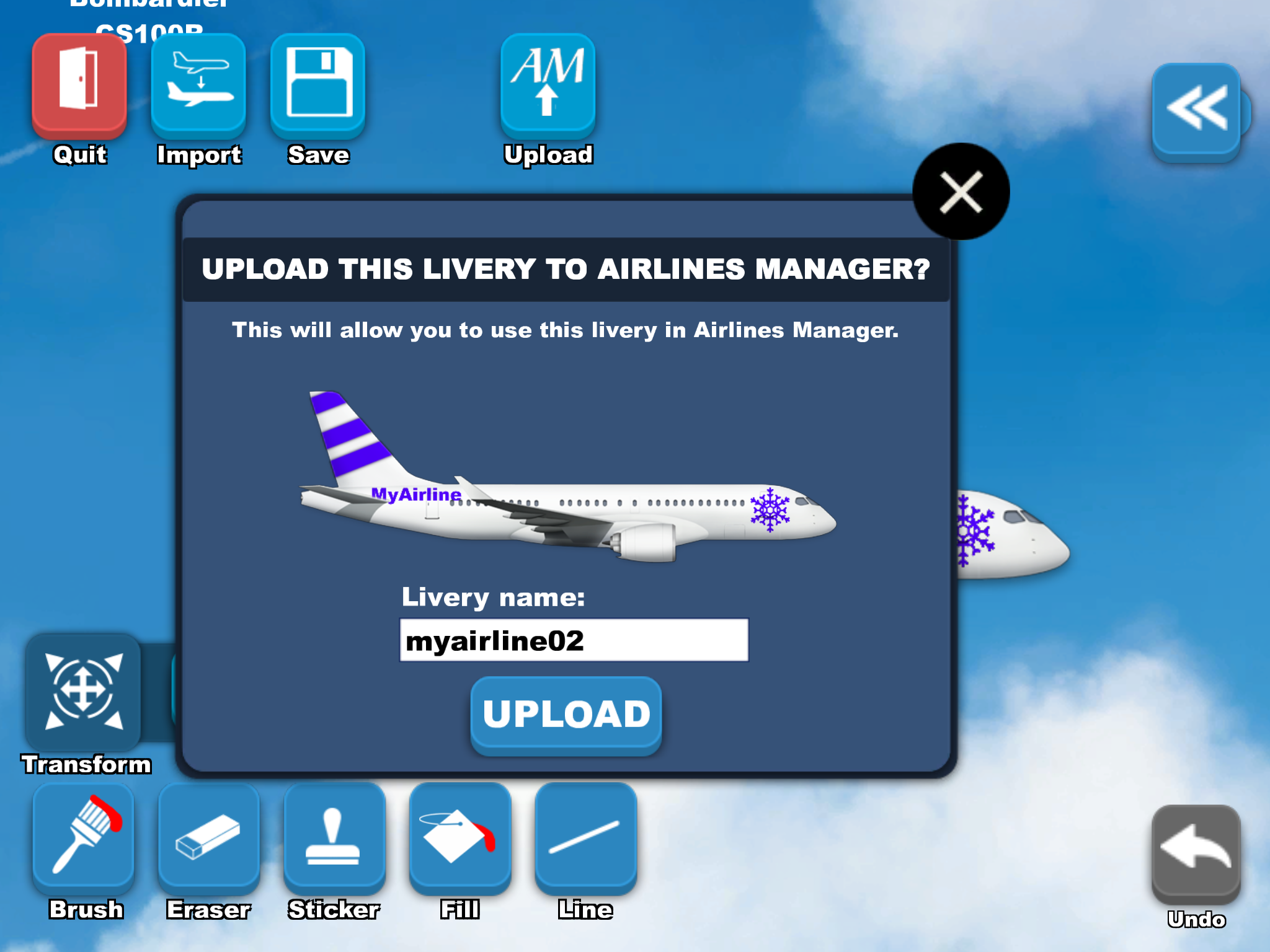 A new window will appear to confirm the upload. Tap the "OK" button.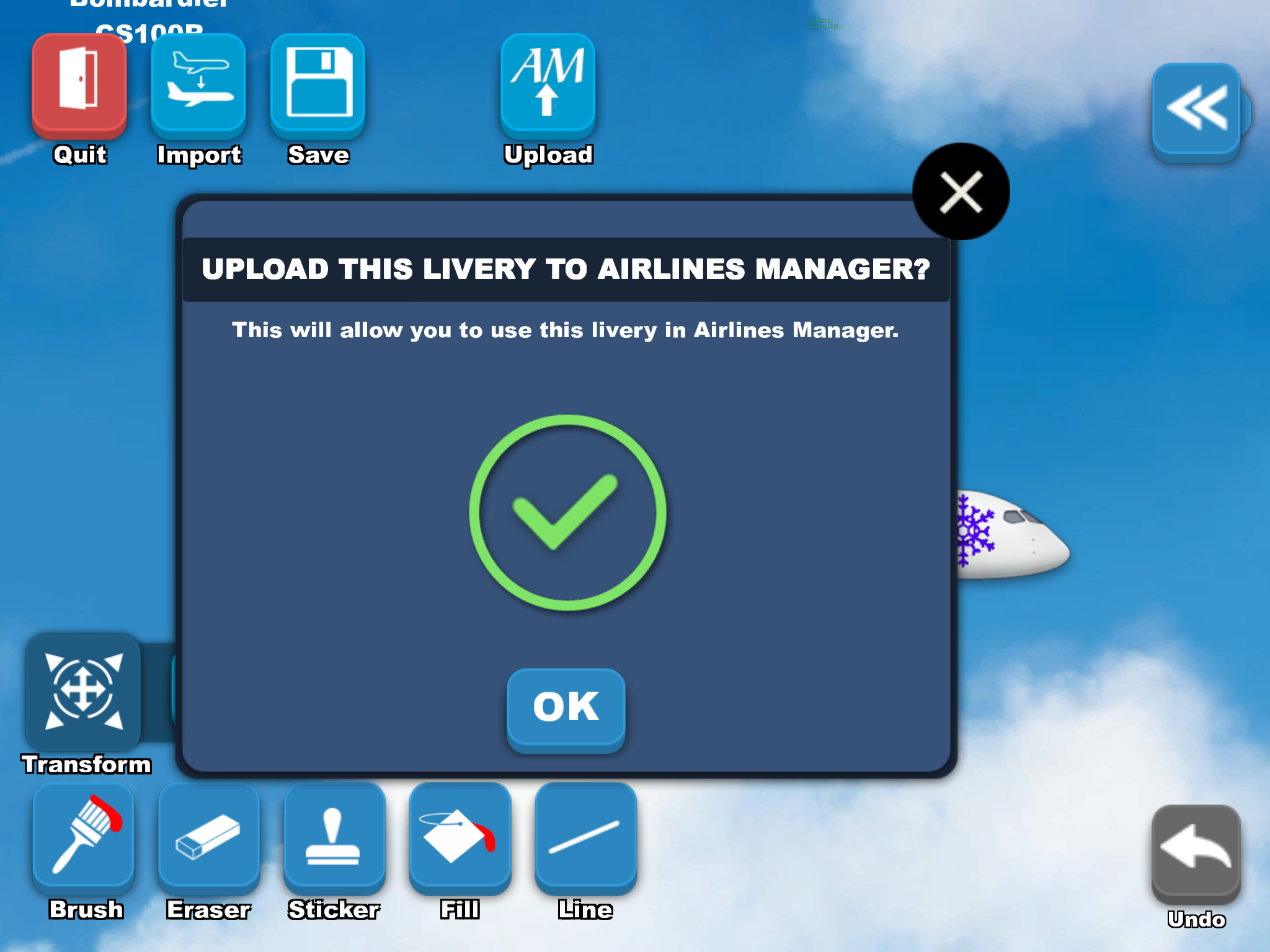 Another window will appear and it is asked if you ant to open Airlines Manager to use your livery. Tap the "Yes" button.
You are automatically redirected to the section "Livery management" > "My Airlines Painter liveries".

Select your livery, tap "Submit to the livery market" and in the window that opens, tap the "Confirm" button.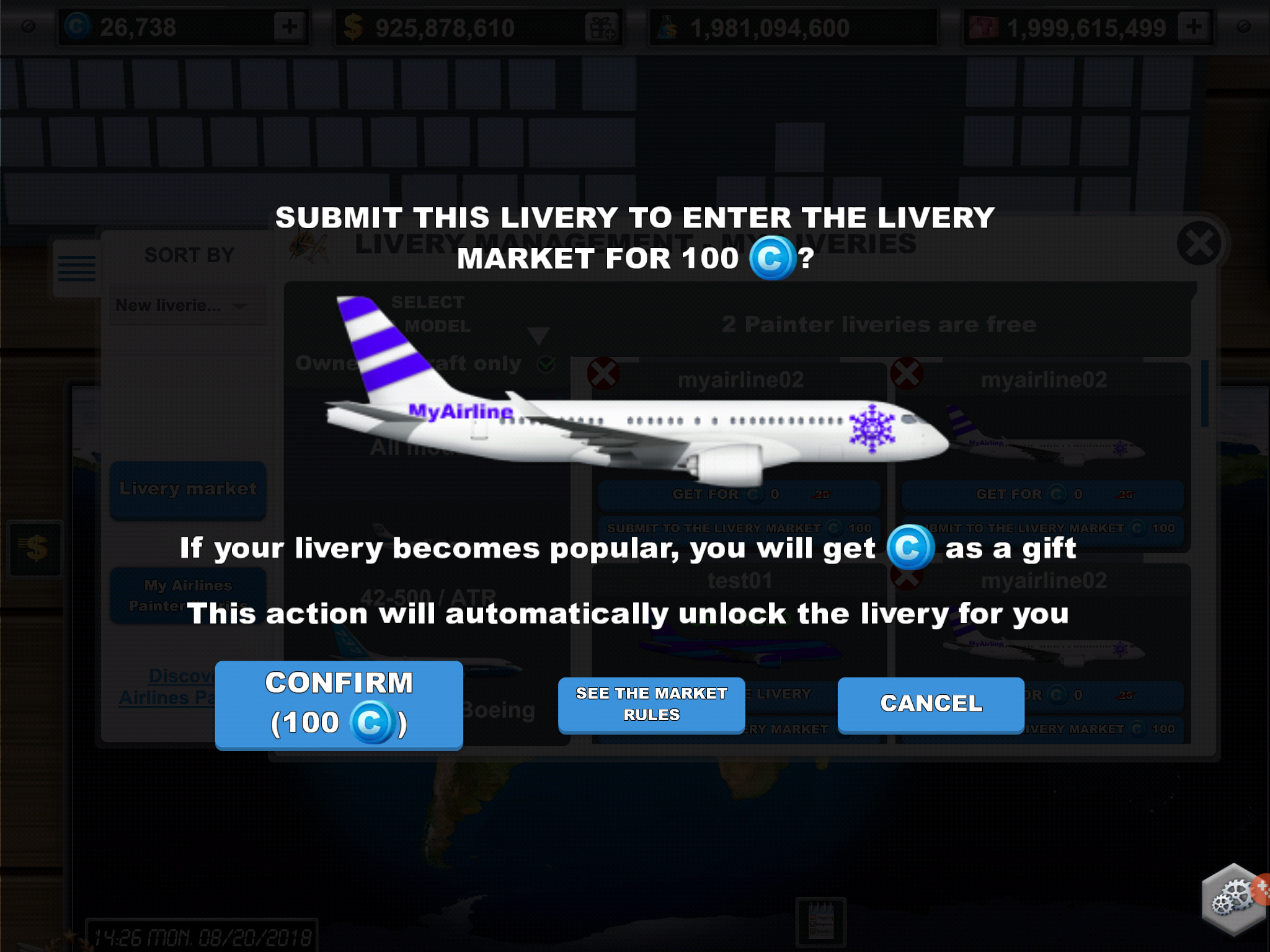 That's all! You just have to wait for a Playrion staff member to check if your livery can be sold on the market.
You will receive the answer in your in-game mailbox.
Why do I have to pay to submit my livery to the market?
The upload price (100 AM Coins) allows to pay the staff in charge of the livery sorting. This price is:
80 AM Coins if you have already bought this livery for yourself (the usual 20 AM Coins are deducted).
100 AM Coins if you have received the livery for free (via a special offer for example).
The purchase price of 80 AM Coins allows to maintain servers that contain liveries, so the market itself. Indeed, once a livery is accepted on the Painter market, it is available forever, regardless the player's livery number limit.
How to know if my livery can be sold on the market?
If you livery is accepted, it will be immediately available on the market.
If you livery is denied, it can be due to the following reasons:
Offensive text: if the content is rude, insulting, excluding, or if it can harm any person or group of people.
Inappropriate visual content that is:

pornographic
politicized
insulting a person or a group of people
using images under copyright
copying a design already present on the market

Ineligible livery: the livery is not elaborate enough or doesn't match the criteria of our validation system. If the livery is denied for this reason, 70 AM Coins will be exceptionally refunded.
If you disagree with the decision given for some liveries on the livery market, contact the support.
How many AM Coins can I have as a gift with my livery?
If your livery is popular, you can obtain AM Coins as a gift according to a level system. Every time you reach a level, you get 100 AM Coins.
You can reach those levels by selling one or several liveries as it's the total number of sold liveries that is taken into account.
Here is the list of all levels: 10, 30, 50, 100, 150, 200,  250, 500, 750, 1000, 1250, 1500, 1750, 2000, 2500, 3000, 3500, 4000, 4500, 5000.
Prizes are credited to the next login to Airlines Manager and are visible in the login popup window by tapping "Details".