This post is also available in:

Français (French)

Español (Spanish)
The Gazette deals with events that can impact your airline. These events can be related to the game's news or aeronautics news.
You have to take decisions based on the information provided by the journalists. However, bear in mind that your decisions impact your airline. Depending on your decisions, the consequences of the Gazette can either be positive or negative. The Gazette is available to airlines created for 2 days at least and is published about every 15 days.
Cautious players can be reassured as every Gazette offers a neutral choice. The neutral choice has no consequence on your game progress.
How do the Gazettes work?
The section contains 3 categories that change each Gazette's effects.
"Coming soon": the Gazette is visible and you can read the article and make a choice if you want to. At this stage, explanations and consequences of every choice are hidden. The allocated time to make a choice is always limited and written in red in the Gazette. As long as the Gazette is "coming soon", you can change your choice as many times as you want.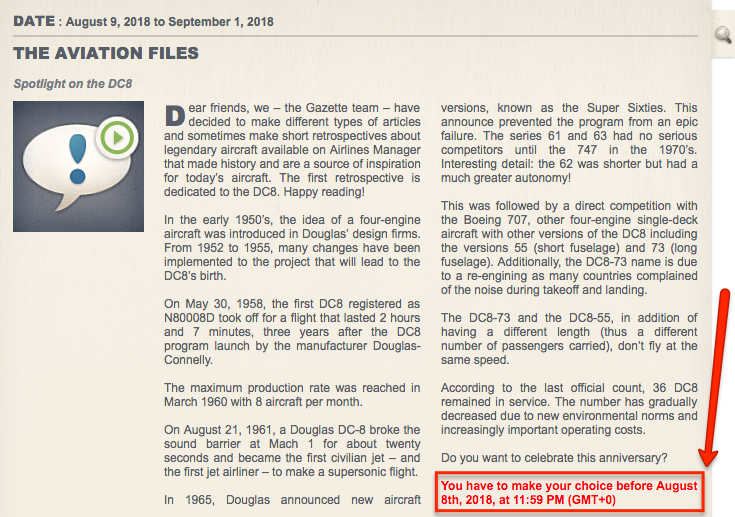 "Headlines": the Gazette is entirely readable so you can see the explanations and consequences of each choice. When a Gazette is in the headlines, you cannot go back on your choice.
Gazette's effects are not permanent, they last as long as the Gazette remains in the "Headlines" section. The effect duration is indicated next to "DATE:" above the title of the "Headlines" Gazette.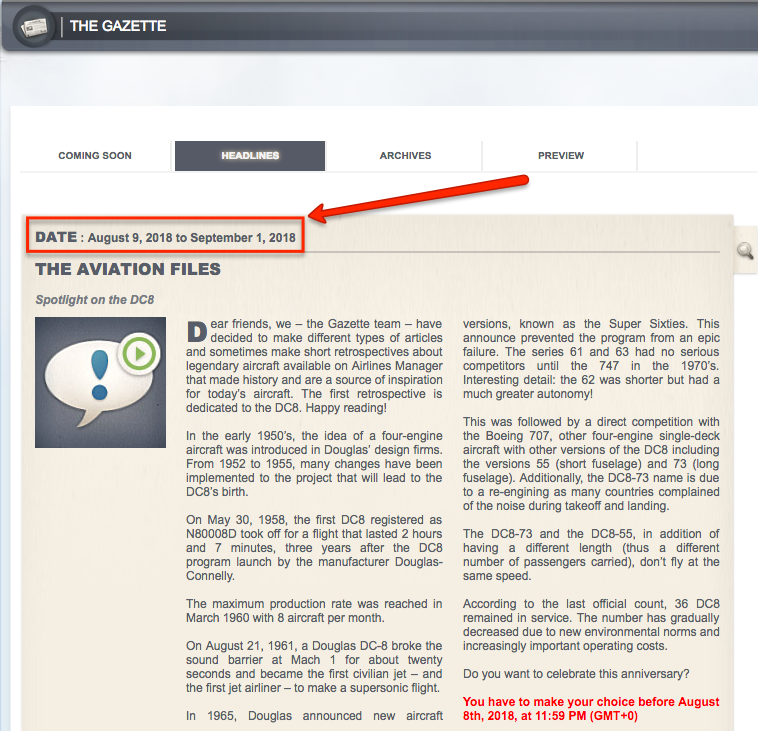 "Archives": the Gazette is archived. It can still be read but its effects (if relevant) don't apply anymore.
How are the Gazettes written?
The Gazette, a volunteer-run newspaper
The Gazette's events are inspired from real facts and are written by a team composed of journalist-players who love Airlines Manager.
Our journalist-players take care of doing all the necessary research to write articles about the news of the aviation world in the most realistic and funny way possible.
Being a journalist for the Gazette of Airlines Manager means it is not possible to benefit from its effects. A journalist-player cannot select any choice when an article is published. Therefore, our journalists work to offer a more complete experience to Airlines Manager's players in a spirit of generosity and in full knowledge of the facts.
The Playrion team also wants to thank in this article all the journalist-players who have taken part in the Gazette since its creation.