This post is also available in:

Français (French)

Español (Spanish)
You can join an alliance in Airlines Manager, but what is it and what could it be used for?
What is an alliance?
Alliances are several players who gather for common interests – in addition to their passion for Airlines Manager of course! – to develop their airline more quickly.
Indeed, to be part of an alliance means that you are part of community of players from which you can get valuable advice to develop your airline. The news page of the alliance mainly exists for this purpose.

However, there is a hierarchy which gives responsibilities to the members according to their role.
Responsible roles within an Alliance
Founder: creator of the alliance, he/she has all rights.
Right-hand man: the Founder's assistant, he/she has the same rights.
Marketing director: he/she manages the financial aspect of the alliance and he/she can change the alliance tax.
Human resources director: in charge of hiring, this member can accept or reject applications.
Communication director: in charge of the alliance communication, he can edit the alliance description on the news page.
Sales director: he/she can confirm aircraft group purchases.
R&D director: in charge of developing the alliance's R&D.
But that's not all, an alliance can provide other interesting advantages to you and your airline.
The benefits of being part of an alliance
In addition to the friendly atmosphere created by the alliance, there are two major benefits that can make your airline grow.
Hub sharing
Sharing a hub is a procedure within an alliance which enables you to own a hub at a lower cost thanks to a sharing contract between you and one member of your alliance. It is a way of expanding your airline more quickly!
Moreover, if you share one of your hubs, you can make profits by applying a tax on shared routes. The member who will have to pay this tax is the member with whom you share your hub.
However, this member will also make profits by increasing the number of routes he/she can have on your hub. Feel free to take a look at the article about hub sharing for more details.
Aircraft group purchase
In Airlines Manager, you can benefit from discounts when you purchase several aircraft. Making a group purchase within your alliance allows you to get big discounts on aircraft.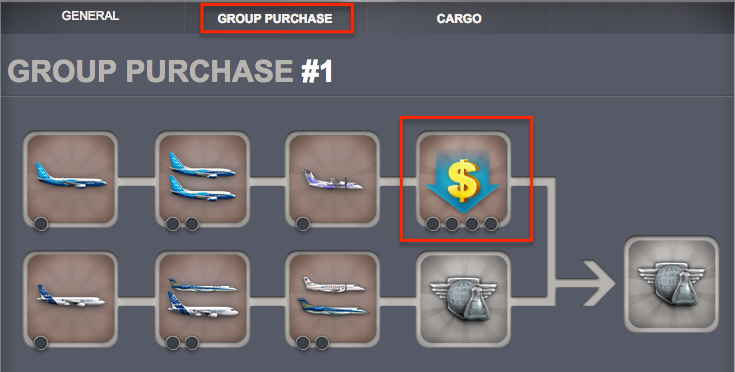 Also, you should know the discount rate on aircraft purchase can become even more advantageous thanks to the alliance's R&D.
To sum up, alliances are an efficient way to develop your airline while enjoying the game and sharing tips with other players who have passions in common with you.