This post is also available in:

Français (French)

Español (Spanish)
To share a hub, you have to be part of an alliance. 
All the available hubs in your alliance are shown in Alliance > Network sharing.
You can share a hub with a member of your alliance by drafting a contract between the two airlines. 
A shared hub yields a profit of 50% of the current demand at best, with an operating cost much lower than a purchase.


Drafting of the contract
The contract is divided into two parts:
The left part represents your airline whereas the right part represents the other airline.
Adding a hub enables you to choose the hub you want to share and the hub you want to use while it belongs to the other airline.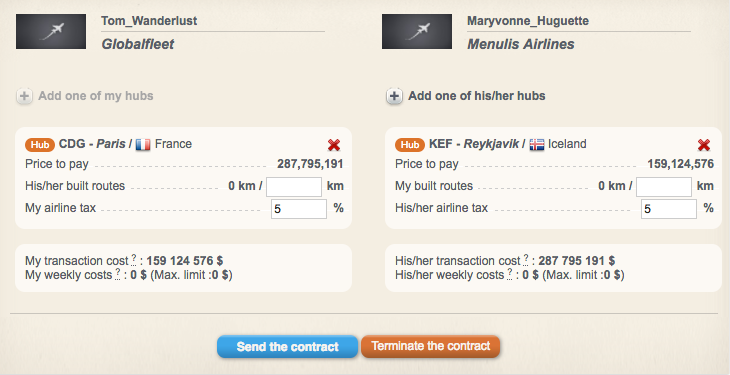 Price to pay

: the price to pay to use the hub. It represents 30% of its usual price.
Built routes

: indicates the maximum number of km that will be used with this hub (the contract can be renegotiated at any time if this is not suitable anymore).
Airline tax

: tax on profits paid to the airline which owns the hub in exchange of its use (5% at most).
Transaction cost

: price to pay to purchase the hub.
Weekly costs

: the airline providing the hub keeps paying for the maintenance. Try to balance or make profit with the tax on the airline which is using your hub.
Tips
In case of contract termination, all hubs and routes will be automatically resold and your aircraft will be automatically assigned to one of your hubs.
If you terminate a contract without the agreement of the other party, you will have to pay 10% of the total amount your associate has invested in your hub. Therefore, it is recommended to negotiate rather than terminate a contract.